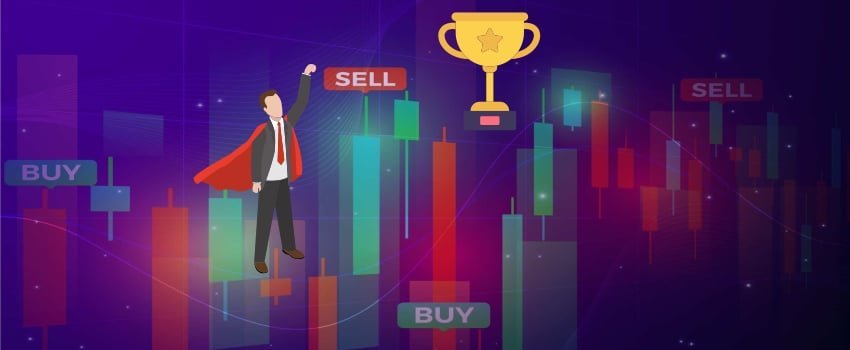 Grid EA PRO – our bestseller, has proven it self to stay best Forex robot again this year.
Forex robots are used to make money automatically by benefiting from the forex robots. They are great tools, because they remove human factor mistakes and they are fast. Using robots you don't have to monitor market all the time – leave all the money management calculations for the software.
Most of the traders are looking only for Best Forex Robot for MetaTrader 4, because they want to trust their money in best hands possible. And that is exactly what we offer!
Robots are easily customizable so you configure them to trade according to your way. Many features are available including smart lot size and risk management systems that give you control of how much you want to risk.
To help you with choosing the Best Forex Robot for MetaTrader 4 in trading, we have listed two popular robots. These robots are very useful and will improve your trading experience.
Grid EA – the Best Forex Robot for MetaTrader 4
Grid EA is an intelligent and profitable Forex EA that allows you to trade without having to worry about your trading results. The robot is safe to use in your trading as it uses automated lot size, trades count management and special statistics with  mathematical technologies to analyze the chart and monitor your account. 
Grid EA robot is one of the best selling forex robots that's suited for multi-pairs trading. To use the robot, you can start with an amount of as low as $100 and run it. From our live account statement, you can see the performance with this robot. 
Here, on the image below, the robot has been tested every day for 4 months. And as you can see, the total profit of the account by using Grid robot has come at $21,755.11.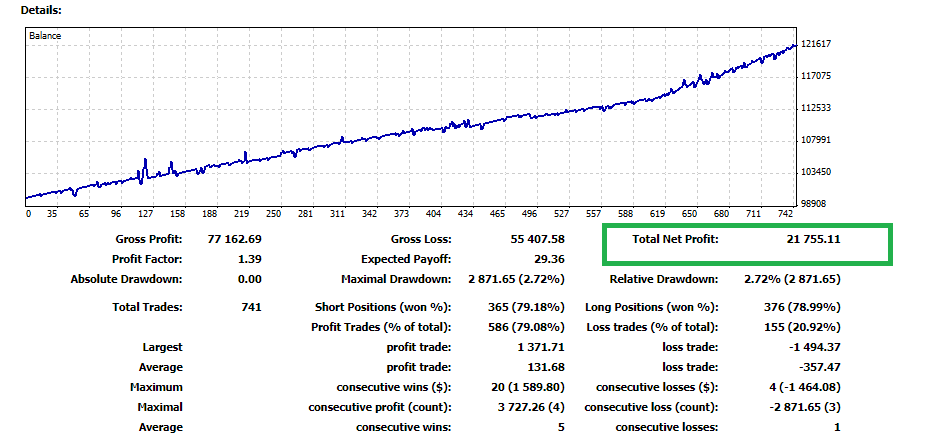 Based on these results, you can see the successful progress of the robot. The strategy that the Grid EA robot uses is very profitable with 741 positions opened in total. 
The robot uses a new source code that draws special market channels by executing pending orders. You can customize the settings of the robot according to your preferences. Besides that, in trading, it's very important to control your risk.
The robot  has a very low ratio of losing trades. Actually if you look at the whole single trading cycle – it never loses, because the sum of losses and profits is always positive, it will only close the cycle when you have your Target reached, which you set as desired.
That's the nature of Grid systems, the time, math, statistics and market is doing it all for you, only thing you have to have is fine tuned software which combine and controls all these factors in order to achieve those results. This EA does exactly that, thats why its out Best Forex Robot for MetaTrader 4. Read more about our Grid EA here.
Renko Scalper Robot – The Best Forex Robot for MetaTrader 4 scalping
Renko robot is suited mostly for scalp traders who want to trade more aggressively but with a high reward ratio. The robot's perfect for beginners in trading too who wants to grow their accounts quicker. You can use the Renko robot with multiple currency pairs and with larger balance accounts too.
Besides that, the robot will allow you to understand the charts easier, because it works on Renko Charts instead of regular candle sticks. The renko chart indicator which accepts EAs/Robots on top of it, will be included in package for free as well.
Renko robot analyzes the pair with accurate calculations by tracking the bar colors. In addition with Moving Average this allows the robot to predict the trend direction of the pair.

The robot by the default settings uses a stop loss of 10 pips. You have the option to reverse the robot to trade in the opposite direction. If you're a trader with a small balance, the trailing stop will allow to catch even smallest profits. 
Default settings are adjusted to the best, but you can change the settings by your preferences. Renko robot can help you in other structures of the forex markets as well. Using renko charts it can more easily discover support and resistance levels, breakouts, and generate signals with additional indicators. Get more info about Renko scalper here.
Suited for multi-pairs
You can use those robots on different forex pairs such as EUR/USD, GBP/JPY, USD/CAD, and other pairs at the same time. We recommend you trade with very low spreads as it's more beneficial when you trade with them. That depends on choosing good broker.
This is important because for auto trading your broker must accept all strategy types and offer best speed and spreads. We have been working with AdroFx.com for the last few years, testet all our products and had no issues at all so far. It's our favorite broker so far.
The robots do not have any limitations on time frames or any pair. You can open multiple orders at the same time with different time frames by separating robots with different magic numbers. You will get detailed instructions of how to do along with the robot.
Risk management protection
The robots provide a smart risk management system. You can set up them to trade with a low amount of $100. To reduce the risk of margin call, the robots allows you to trade multiple pairs at the same time in different time frames which naturally creates risk diversification. Using our robots is safe as they provide a smart lot size system, they do not use any kind of martingale strategies. You can trade with fixed lot size if so desired.
Robots are compatible with MetaTrader 4
Both robots are available for the MetaTrader 4 trading platform. The setup process on the trading platforms is quick and easy. For any issues that you may have with the setup process, you can read the manual guide or reach us for help anytime.
You can use the robots with any broker that supports MetaTrader 4 platform. Surely our partner AdroFx.com does offer MT4 platform, which is the best platform so far to trade Forex.
Live trading process of our Best Forex Robot for MetaTrader 4
The accuracy of the profits it's proven by the Myfxbook. In the image below, we have a live example of  how robot works. We performed a test on the robots with a balance of $89 on a live trading account. After 1 week of trading, the balance it doubled with 0 drawdowns. 

This would offer you a +100% weekly profit of 400% profit per month. The test on the live account used the default settings already preset with the EA. Here one of the many moments Grid EA (more in product description) was performing live on Myfxbook: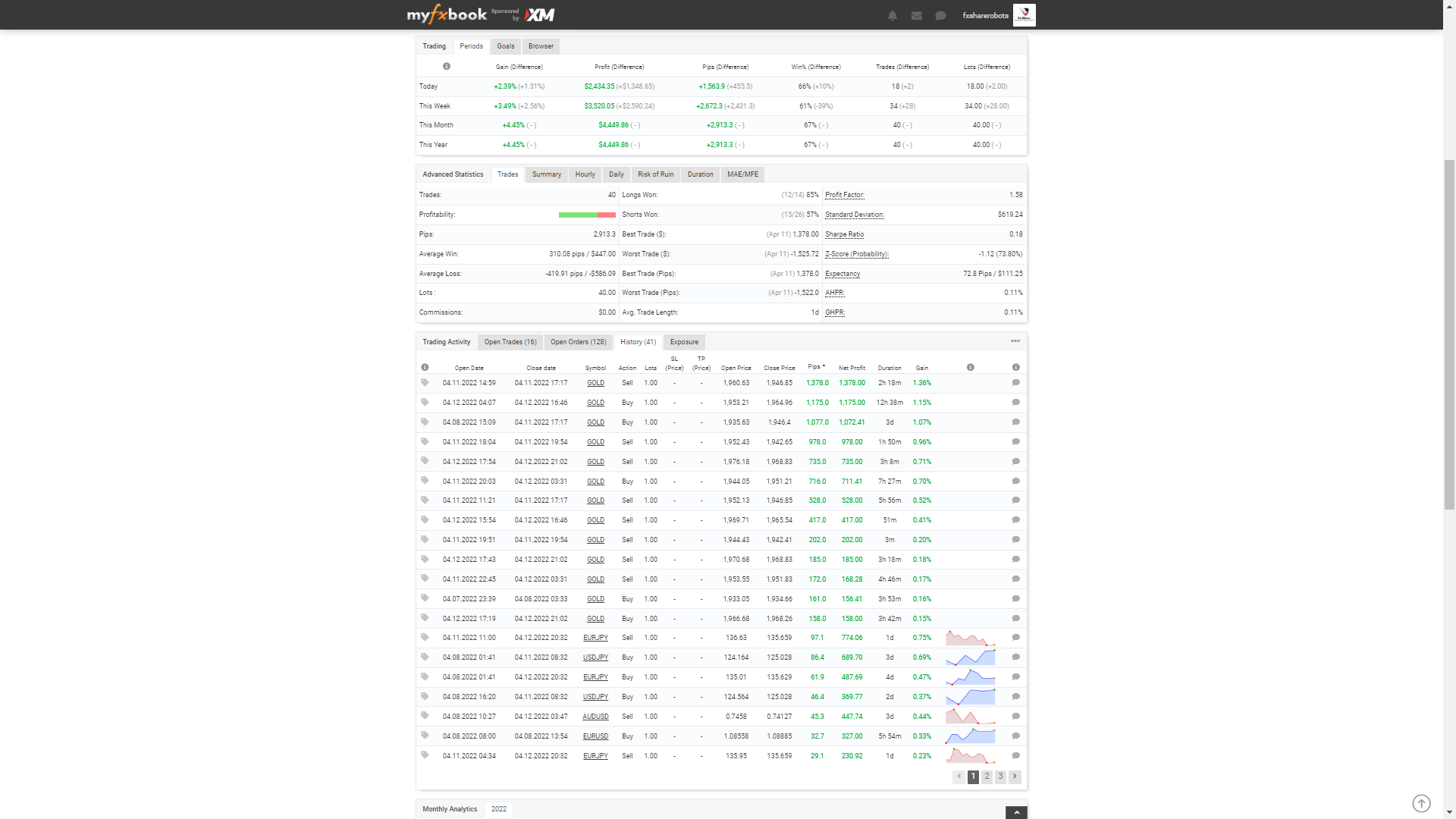 Summary of the Best Forex Robot for MetaTrader 4
Renko Scalper and Grid EA  are very highly accurate forex robots that uses the automated systems in trading. The robots can be perfect for advanced traders, but also great start for new beginners with small balances in trading. Both robots provide a smart risk management system that protects your account. 
However, risk management it's very important when trading with robots. We pay a lot of attention for that when designing any Forex Robot. That is why both robots provide a successful win ratio of trading with a very low loss ratio.
MetaTrader 4 it's the most popular trading platform and you can integrate our robots easily. The setup process it's not complicated at all, but if you're facing any issues, you can read the manual guide or ask us for help by visiting our support page.
Check all our products. Or just grab a package!