What is Forex EA or Robot?
An Expert Advisor (EA) or Robot is an automated trading system written in MQL4 programming language and is designed for operating under Metatrader 4. The EA can be programmed either to fully trade for you and manage all aspects of your trading operation or to alert you to a trading opportunity.  In other words an Expert Advisor it's just like a tool advise traders which trade to make. This Expert Advisor (EA) is sending applications to a broker without any intervention on the part of the trader. You install a profit forex expert advisor to the existing forex online trading platform, which is connected to the server broker, adjust all the settings, and the advisor will begin trading according to a preset strategy.
BENEFITS OF AN EXPERT ADVISOR
Emotions free.  We could say that this forex Expert Advisors are so popular due to all traders can decreases the responsibility for making decision, and the trades become less stressful. They remove emotional trading decisions that particularly affect the new and inexperienced trader. They follow a very strict trading plan but with no human intervention. All calculations of strategy already include in the program, so you don't need to worry about your knowledge of technical and fundamental analysis. The advisor is able to handle the trading signals even when the trader is not at the workplace.
Time saving. An Expert Advisor can handle hundreds of markets. It means you don't have to watch market movements 24 hours a day in order to find new opportunities. It is up to you how much time you dedicate to spend on it.
Back testing. You can back-test the strategy to monitor the results of your program. Testing is very useful, since it helps to measure the ability and effectiveness of a mechanical trading system on historical data, estimating the chances of future earnings and errors. also gives you confirmations on your trades as well as the result it will produce.
First of all read all the contents of this support page. If your product has an installation and usage video, make sure you watch and follow it step by step. You can find it in your product description page. 
All our products are tested many times by many people. If you having any problems, most likely is because you installed it incorrectly or did not followed the instructions how to enable and use it.
If you followed the users manual guide, video and installation instructions and still can't get it running. Please contact us and describe exactly what is not working for you, send us screenshots and your order ID.
User Interface view is distorted
Some of our products are written to specifically fit original Windows scaling, so if you get something like this: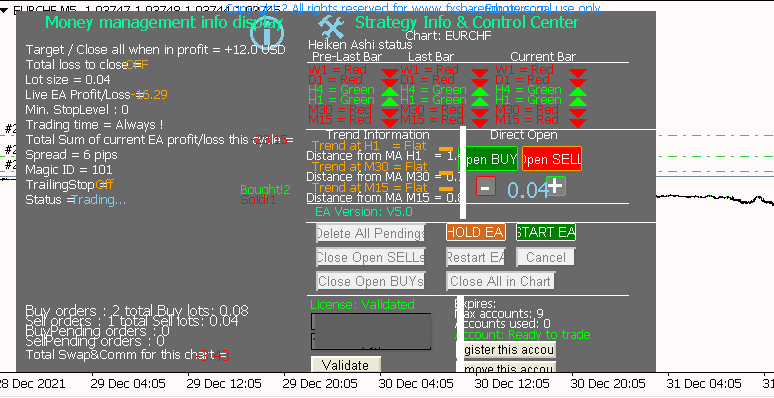 ✅ Right click on your MT4 app, go to Properties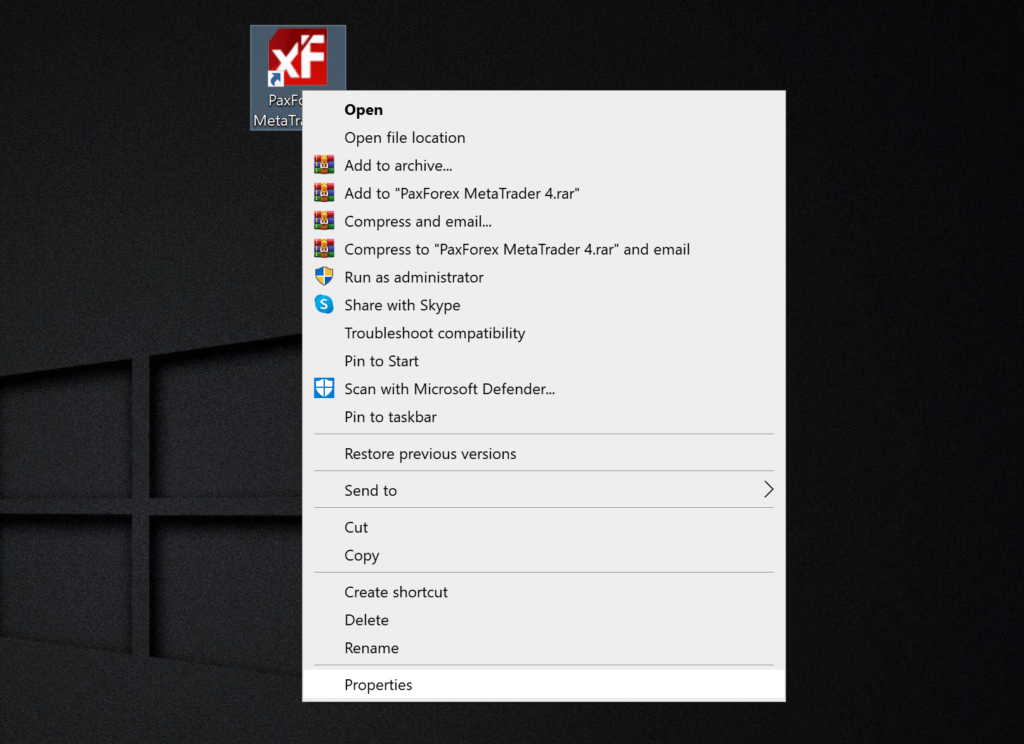 ✅ Compatibility tab, then enable override high DPI settings and change DPI settings to System.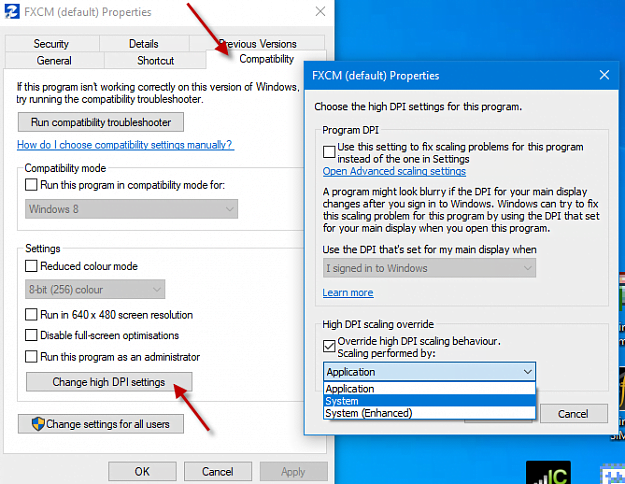 Restart your computer if needed.
✅ Then you should see graphics as expected:
---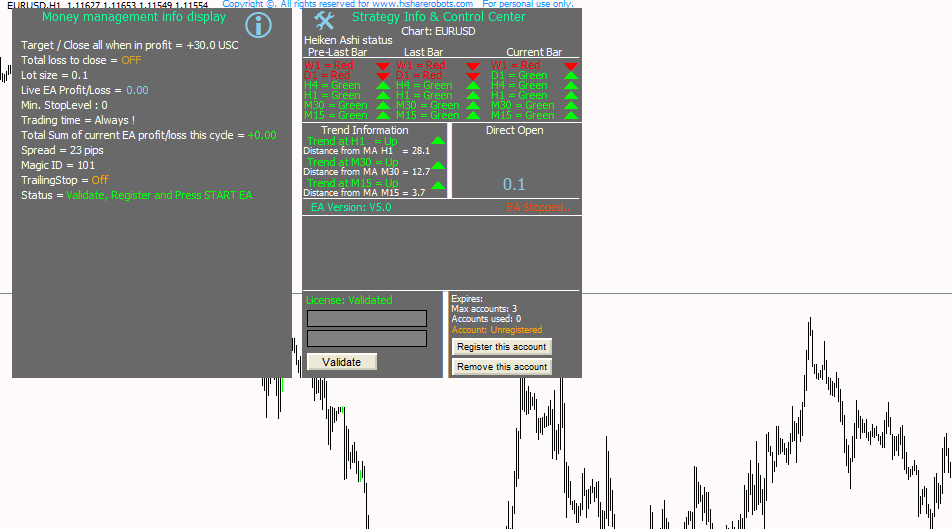 I cannot validate my license
✅ First of all make sure you have Entered correct Email and ID. Email is the one you have used when checking out with us. Your payment (or order) ID is send to your Email after purchase and also visible in your account dashboard. Use it without #. For example if your order ID is #12345, when activating use 12345 number only.
✅ Also make sure you have Enabled DLLs and Live trading before you load the EA.
✅ Also your system must accept external DLL Imports. If you use VPS server, some of them does not accept DLL and therefore we won't be able to validate your license. In that case try it on local machine. If it works, make and exception for MT4 in your VPS firewall, if you can't change your VPS…
✅ The market must be open in order to validate your product.
✅ Try to disable all third party antivirus/firewall programs to allow MT4 DLLs connect to internet. If it works make an exception for MetaTrader.exe in firewall which is blocking the connection.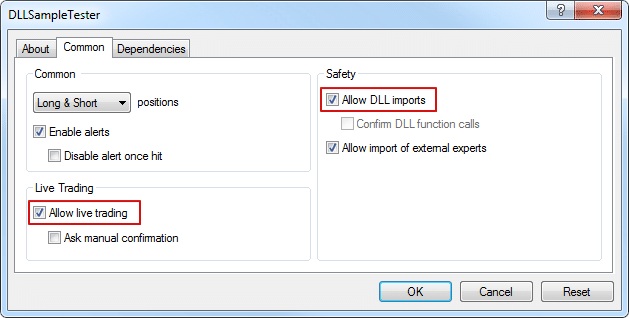 ⚠️ If you don't tick those boxes you may see two empty grey boxes and you will not be able to enter your credentials. It is also the case if market is closed.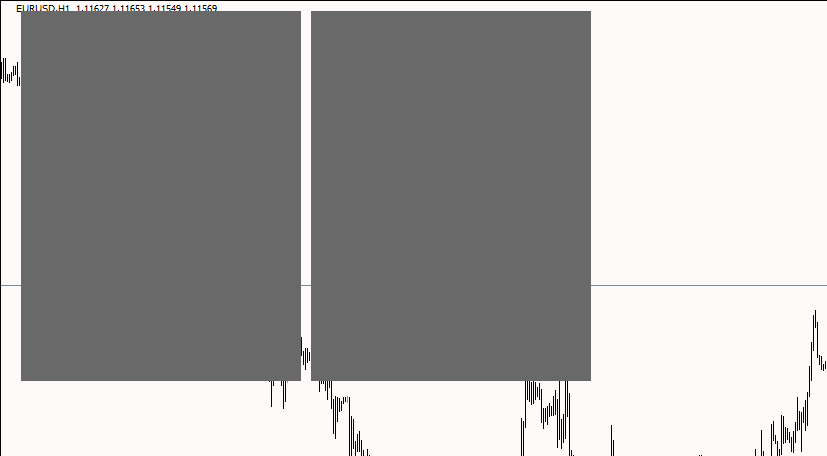 ---
✅ Lastly try to re-download and reinstall your product from your downloads area.
⚠️ If you still having problems or errors validating you account, please contact us and we will help you out. Please attach screenshots.
How to Download and Activate my product?
What is the minimum deposit to get started?
We cannot advise you on your personal finance. However our robots are small accounts friendly, so you should be able start from as low as 50-100$ by using 0.01 lot size. For serious profits you could use bigger accounts and increase you lot size. Check out our Promotions and save money for your deposit.
I want to see your robots performance and test results
You can find our test results and screenshots from MetaTrader4 history and myfxbook in the product descriptions page. We do not provide any links or investor passwords to any trading accounts. Please also visit our Facebook page, we upload some live trading results there as well.
Where are my Files and Payment ID's ?
To manage your downloads, subscriptions and orders please login to Members Area.
The account will be automatically created for you immediately after purchase and generated password will be send to your email. If you don't know your password, just use forgot password and reset it.
You can also find your Payment ID in your email, which will be sent immediately after payment together with the download link.
Members Area
In Your Email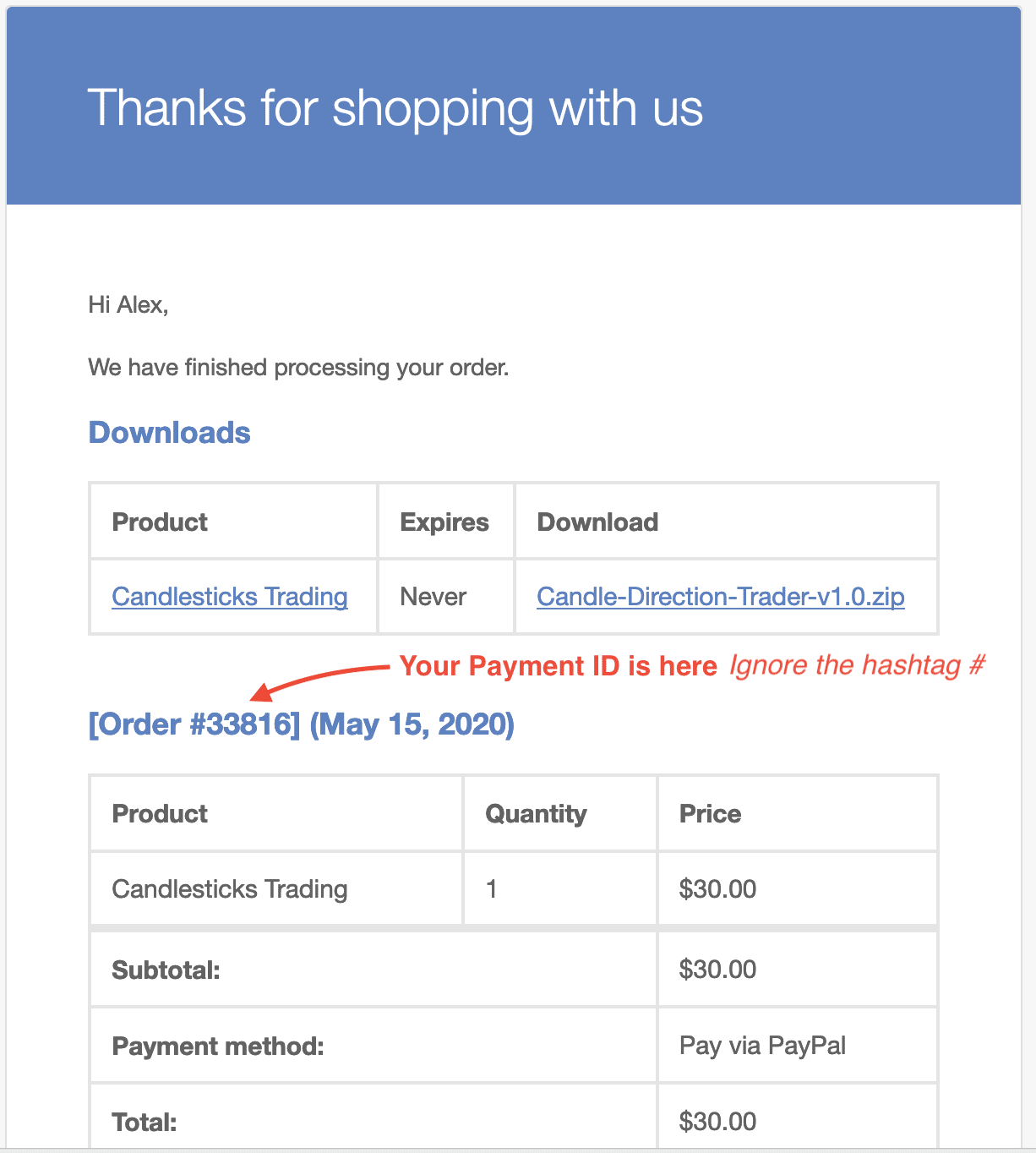 I am getting sad face. How to Enable Auto Trading?
If you see sad face ☹️  next to our EA name. You must enable auto trading in following places:
✅ Go Options – Expert Advisors here: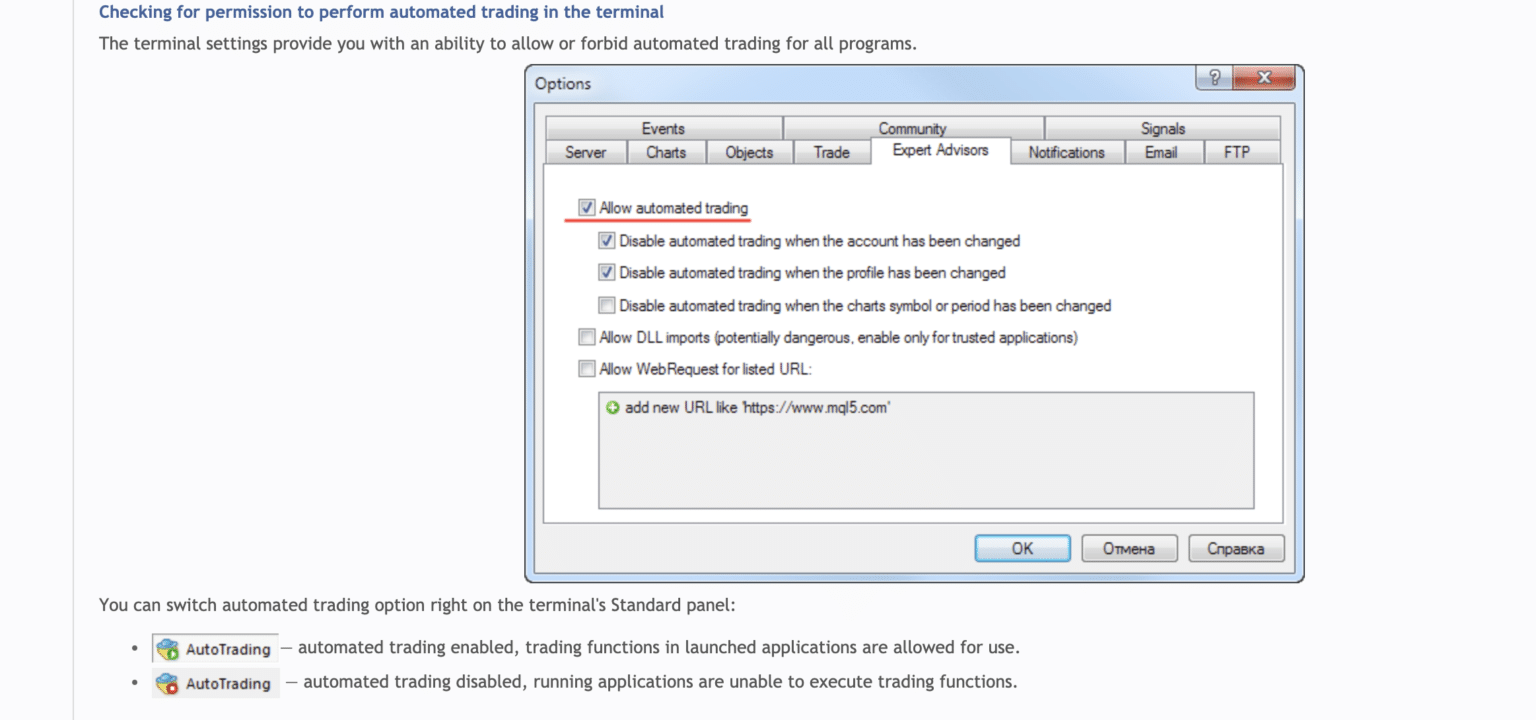 ✅ Double click on EA name, go to Common field and tick Allow live trading:

✅ You can also always turn OFF or turn ON auto trading in you main panel by pressing this button here:

⚠️ If your EA still does not work, try restarting the platform. Check any error in Experts field and let us know. Some brokers might be forbidding of using EA's, so trying other broker might be good idea too.
My EA is not opening trades, when will it start?
First of all please make sure you have enabled auto trading. Also if your EA has user interface dont forget to press start EA.

Make sure you read users manual guide about trading time. If your EA is restricted in specific time range(which is recommended) you must wait until trading hours to begin. Most likely next day at 4AM(for default settings)
Also please be patient, give EA time, some signals may not occur instantly, you must wait for good opportunity for EA to enter. Let it do its job.
Do not make any changes during trading cycle. If you made some, change magic number and load it on fresh chart.
Can I use EA on multiple pairs?
Yes you can use any of our robots on multiple pairs on same account. To get it work smoothly only thing you need to do is to use different magic number for each pair. For example:
EURUSD – 101
GBPUSD – 102
USDJPY – 103
and so on… You can use any number you like.
What is the best settings with your EA?
Our robots are already preset with optimal settings, so you can try using them right away with default settings. But there are many factors in play like currency pair, time frame, market conditions and many more, so cannot rely only on default settings. So we still recommend tweak the settings using strategy tester or demo account before running it live. Some versions comes with some set files. Also each version comes with its user's manual guide with each parameter explained in detail, just in case you would like to make custom changes and understand how EA operates.

⚠️ Make sure you read pdf manual guide which you received together with your EA package !
How much money will I make?
All your profits depend on various factors. The main one is the market condition which is constantly changing and fluctuating every day. Also, different brokers have different spreads, settings, history data etc.… Sometimes you can double your account in few hours, sometimes you need to be patient and wait while EA reaches the target you set.
How can I get the updates?
Updates are free for our customers. After you make your first purchase the account with us will be automatically created for you. Login credentials will be sent to your email – the one you used when checking out inside our page (not your PayPal login address!). Then you simply login to your users menu, from there you will be able to see your purchase history. Select your purchase and you will be able to redownload your files, this way you get latest version possible.
Why should I choose auto trading?
Because it's easy and convenient. Setup once and you ready to go. You don't have to track and analyze your charts, let the EA do the job. If you don't have much time or have a second job, this could be a great tool for you. Enjoy your profits while you at work, spending time with your friends or family. Live your life, let the robots work!
I am absolutely new to Forex
Don't worry there is a plenty of information online to learn. We think babypips.com is a good place to start 🙂
Which Forex broker should I use?
Our software can be used worldwide with any broker which supports MetaTrader4 platform. 
We trade our robots with this trusted broker 👉 adrofx.com
How much do I have to pay for your robots?
It is one-time lifetime payment. All prices are listed in each product description page.
Just choose the product or products you would like to buy, add them to your shopping cart, make a payment and you will be able to download them instantly! You will also get your download link, login details and invoice to your email. Click here for detailed instructions.
How and when can I begin?
Right now, in 5 minutes! You just need to have a MetaTrater4 platform installed, download and install our software and you are ready to go!
Which countries are accepted?
Our software can be used worldwide with any broker which supports MetaTrader4 platform.
Do I need to leave my computer always on?
Yes, you can run it on local machine as well. The computer must be platform must open and running 24/7 However, whiteout interruptions.
For stable live trading with forex robots, VPS server is always a good choice because your platform cannot be turned off during trading process.
Do I need VPS server for your robots?
It is highly recommended to use VPS for any forex product, we recommend our long years partner forexhost.net 

You can run it on local machine as well. However, for stable live trading with forex robots VPS is always a good choice because your platform cannot be turned off during trading process.
I am new with Forex, will I be able to use your software?
Absolutely! This is why the robots are better than learning all those expensive long courses of manual trading… With our software you can start trading today, because all our long years' experience is already coded inside our products! Don't worry if you're not an expert and have just started to trade. Our software installation is very easy and installs like any other program in Windows. You just have to have your MT4 platform already installed, the rest setup will do. Also there is detailed installation and user's manual guides to get you started. Click here for detailed instructions
What license will I get, can I change my account number?
Yes. If you bought 1 account number you will be able to use it with one account at a time, of course you can load your EA on as many charts as you want. You can also change your account number any time inside the EA. Simply remove the old one and then register EA on new account. You don't even have to go to our website or contact us to do so! Same is for 3 accounts versions, its just that you can use up to 3 different accounts at the same time. It is very good if let's say you want one account to work on VPS, and others on your local PC or at your work. Also, this is useful when you want to use different brokers at the same time.
How to validate my license?
Easier than ever before. After you make a payment you will receive your files together with your invoice and payment ID. After you install your EA, enter your payment ID and your Email that you used when checking out with us. Your EA will validate and you will be ready to trade. Don't forget to press start button after validation! 
What makes your robots better than others?
We are developing automated solutions for MetaTrader4 for about 10 years now. All our products are tested live. They can be used to trade multiple pairs at the same time, has a special memory system to continue your trading process in case of lost connection or platform crash. All robots use unique time-tested and stable strategies. You will be able to track every trading process in special information display. Latest versions have a user-friendly control panel which lets you control your trades directly from the chart, close all trades with single click, open trades manually, pause, restart EA, see trend direction information from all timeframe's perspective, add or remove trading account numbers from your license directly from the chart and many more…
Still having questions? Email Us
⚠️ NOTE! Please submit this form only, if you really have searched for your answer in all of the contents above. Thank you for saving Yours and ours time.
---