Channel breakout trading system
Simple, Profitable, Easy & Safe
Hedge channel EA
Hedge Channel Trading System
Introducing our exclusive Hedging EA, which is the top class trading tool for everyone who likes to trade more in mathematical way. It has many options. EA allows to set trading levels for user it self or let the EA to select and calculate the levels for you automatically.

This new version Channel breakout trading system comes with great new features such as:
New great more informative info display;

New bugs and lags free source code core;

2 different trading style in single EA (custom channel wide or automatic by EA);

Intuitive automatic trading levels set by EA;

Customizable lot size management.
Lots of settings: You can customise Channel Breakout Trading System to your needs. You can change channel settings such as refresh/buffer timing, time settings, security settings, lot size management settings and a lot more. You do not need to draw the important trading levels anymore, let the Forex EA do it for You!
Check out the back test results. It turned 1000$ into almost half million dollars during 16 years of backtest with stable profit!

This Hedge Channel Trading System EA can trade in two channel/hedge trading styles. If you set the ChannelStyle parameter to 1 EA will automatically set the support and resistance levels for you. You can increase the range to tell the EA how many candles it should look back to set the levels, the bigger the range – the stronger the levels will be. Also you can adjust the buffer setting, on which depends how often EA will refresh the levels for you. Use 1 if you want to have latest levels on your chart. If you set ChannelStyle to 2, you will be able to set your fixed custom channel. There is a parameter that allows your to set up how wide your channel will be.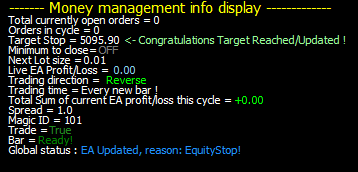 This new version is equipped with new feature called EntryMode. You can use this option for both trading styles. It can reverse whole trading system, so you can decide by the market conditions what entry mode fits the best at that moments. So if you set EntryMode = 1 it will trade normally – breakout method, buy if the price is above the green line and sell if under red one. When you set EntryMode = 2 it will reverse the trades, and you will be able to trade bounces and retracements inside the channel.
Also we use our unique way to control the risks – when auto trading. You can choose how you want to control the lot size management,  turn on or off lot rising mechanism. You can even choose which lot size management style you want to use.
Every version of our software is able to trade with any time frame and any currencies pairs as well as stocks, metals etc.. All our EA's can even trade multiple pairs at the same time separated by magic number. The software has special memory system which creates memory files and logs the trading process, so you never lose your trading cycle in case platform crash or connection is lost.
This version includes latest list of settings and new money management info display, so you can easily track your trading process. This will make your trading even more safe and clear.
This is updated version V2.0 which includes features:
– Added spread protection option
– Fixed memory file system bugs
– Manual lot entry function available
– Fixed trailing stop
Tip! Our software can be used worldwide with any broker which supports MetaTrader4 platform. However our robots and strategies works best with our recommended and tested partner PaxForex.com
There is one .set file and users manual included so you don't have to worry if you do not understand all the terms of settings! Try it yourself, get the Channel breakout trading system EA v2.0.
Enjoy, and happy trading!
Hedge EA
Unlimited accounts
Lifetime
MetaTrader 4